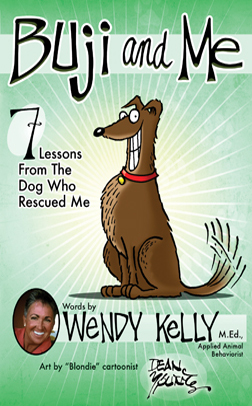 Author: Wendy Kelly
Release Date: November 1, 2011
Publisher: Medallion Press
Editor/Writer: Rick
Part in Collaboration: Ghostwrite
Head held high, I walked out of the shelter with the dog others had deemed hopeless. Minutes later, I was banished from my own car by bared teeth and bristled fur, caught in the rain and dripping wet, foiled by the very creature whose cause I had just championed. Never in my life had I asked so many times, "What was I thinking?" When I rescued Buji, little did I know he would teach me some of life's most valuable lessons—and all he had to do to get my attention was save my life. In Buji and Me, psychological therapist and animal behaviorist Wendy Kelly shares the principles of a dynamic, life-changing force that occurs when we allow our pets to become our teachers. If we are open and aware, they will guide us to being, well, better beings—present, honest, aware, focused, joyful, kind, and loving. Unleash the seven secrets of living the "pawsitive" life . . . starting today.